Enjoy the challanging outdoor activities Namibia has to offer:

A tailor made safari combining great lodges and the outdoor freedom of camping in "the wild". We make your tailor made safari according to your choice of adventure activities, with all the necessary safari comforts and safety standards.

Namibia's objects of interest without the rush of "the masses":

Travel through the geological marvels of Namibias very old desert environments on this tailor made safari. Broken landscapes bear testimony to the powers of nature that formed the continent..

Visit the four contrasting desert landscapes of Namibia:

See the red sands of the Kalahari, the rocky Nama-Karoo Desert with the awesome spectacle of the Fish River Canyon, the sand dunes of the ancient Namib Desert and the bizarre mountain ranges of the Pro-Namib plains.
Tailor Made Safaris - Tour Types:
fully guided • guided self-drive • fully booked self-drive
You choose the route of your safari, we plan your safari and take you to the highlights as well as to secret spots off the beaten track.
Travel to and in Namibia:
Check your visa requirements.
The three airlines Air Namibia, Air Berlin and South African Airways fly to Namibia's Hosea Kutako International Airport near the capital City of Windhoek.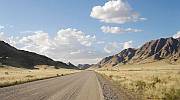 For quick travel to safari destinations small aircraft from local aviation companies can be charterd. Well established safari lodges and mayor safari attractions have landing strips.
The infrastructure in Namibia is exceptional for african standards. Allthough no highways, the blacktops are in good condition. The remaining gravel roads are well maintained.
Seasonal Travel Advisor
Namibias climate is best described as dry season from June to September and rain season from October to May. Dry season increases towards the southern and western parts of the country, while the rainfall increases towards the Nort East. Southern hemisphere spring is a good time for flora and birding, summer great for coastal adventure and autumn and winter are excellent for game drives and hiking.